About Us
The Hopewell Farmers Market has taken many forms over the years and is still evolving. Our story began when the Hopewell Downtown Partnership (HDP) coordinated a Fall Harvest Festival in 2014. This event tested the Hopewell community's interest in outdoor market events and the response was overwhelming. HDP launched an outdoor farmers market in downtown Hopewell that following spring. With the help of numerous volunteers from the community and the HDP Board, the Hopewell Farmers Market ran every Saturday from May until September in 2015 on East Broadway, one of Hopewell's historic main streets.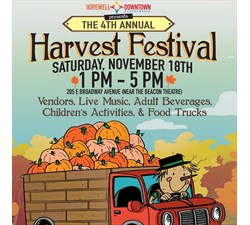 In 2016, the Hopewell Farmers Market relocated for a time to the former Copeland School site near City Park and the waterfront. Eventually the market migrated back to E Broadway with the birth of the popular Third Thursdays" events which featured vendors of all sorts, drinks, food and live music. The most recent face of the Hopewell Farmers Market was tied to Guncotton Coffee and Art Gallery which hosted vendors indoors throughout 2019.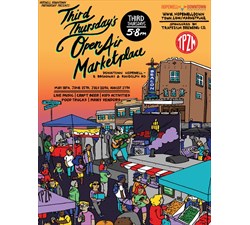 The Hopewell Downtown Partnership relaunched the market in 2020 in the ever-changing conditions of the COVID-19 pandemic. HDP hosted a socially distanced "Mini Market" Pop-Up on August 27th offering pre-packaged bundles at a set-price for pick-up. We have also been working behind the scenes to build this e-commerce page for the market which will enable vendors to showcase their wares online and customers to purchase items from their favorite vendors in advance of the market.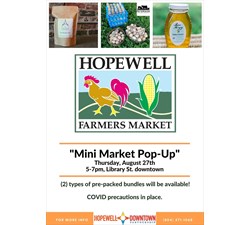 If the story of the Hopewell Farmers Market teaches has taught us anything, it is that we are not afraid to re-make ourselves in an effort to fit the needs of our community and the ever-changing world around us. We are committed to connecting our community to fresh produce, to celebrating local farmers and makers, and to making downtown Hopewell a more vibrant, prosperous and healthy place for all to enjoy. We hope that you will join us at future markets and become a part of the Hopewell Farmers Market family!
- Heather Lyne
The Hopewell Downtown Partnership